Legal Case Management Software
Lawsyst is the leading case management software for modern law firms and legal departments in Australia, helping them manage clients and cases, track time, automate billing, and effectively communicate with clients. The case management solution offers a centralised platform for handling contacts, managing documents, calendaring and scheduling, time tracking, online billing and invoicing, and case management. Lawsyst's intuitive practice management features are designed to work the way you do, so you can easily incorporate them with your legal office environment and practice.
Lawsyst's client relationship management software is easy to navigate and easy to use to help you build strong relationships with your current and potential new clients. It offers a centralised and real-time view of your customers' and prospects' data and insights so you can intervene in your customer journey for the better of your business. Our built-in CRM and Lead management system empower you to stay on top of your sales pipeline and provide a positive client experience.
Lawsyst features advanced legal billing and invoicing module to streamline your practice. Our cloud-based accounting software for law firms enables you to track billable hours, save time on admin, and spend more time on your client's cases. With Lawsyst's integrated accounting software you can easily make invoices and accept payment from your clients. Being a device-compatible and on-cloud software system, Lawsyst's accounting module helps you manage your law practice on the go.
The digital court bundle generation module of Lawsyst is designed to help law firms and legal departments easily create court bundles in a fast and efficient way. The easy-to-use court bundle software will help you build paginated, bookmarked, and fully searchable trial bundles on the fly. Unlike other document bundling tools, Lawsyst offers you the flexibility to create and view document bundles from any device and anywhere. You can also collaborate with your colleagues for document bundling with Lawsyst's seamless communication and collaboration platform.
Lawsyst's task management system allows you to organise and manage all tasks in your law firm effectively. With the integrated legal case management system, you can automate most tasks and delegate, track, and measure performance all in a single platform. The customisable task management software will help you make interactions within your team more fluid and enable collaboration and teamwork in your firm.
Law Firm Software
Lawsyst offers law firm software that specialises in task management system. It helps lawyers keep track of their work and ensures that they never miss a deadline again. Lawsyst also offer a variety of other features such as legal case management, task management, document management, time tracking and billing. We are dedicated to making life easier for law firms, and our products are simple and easy to use. We believe that technology should make your work easier, not more complicated, and our products reflect that ethos.
We understand that technology can be overwhelming and our goal is to make it as user-friendly as possible. With Lawsyst, you'll have everything you need to run your law firm efficiently and effectively. Lawsyst provides a suite of modular, easy-to-use legal case management for law firms of all sizes. Our law firm software are purpose-built to address the unique needs of law firms and include case management, timekeeping, billing, document management, and more. Our law firm software automates and defines workflows based on the type of matter. It can boost efficiency, making it simpler for your office to manage cases and allowing you to get back to what you do best, practicing law.
Lawsyst is the next-generation law firm software that provides easy access, safe sharing, and safekeeping of your legal documents and cases. Our software makes it easy to find and share documents, collaborate with colleagues, and keep track of important case information. Lawsyst is designed for law firms of all sizes and helps you manage your law firm more efficiently. Having a system like Lawsyst in place will help ensure an excellent relationship with your clients.
Case Management Software AU
A case management software can be a great way to make information more accessible for both clients and service providers. By keeping all case-related information in one place, everyone involved can easily see what is going on and what needs to be done. This can help to improve communication and coordination, and make it easier to get things done. It can help streamline the process of handling day-to-day tasks, no matter where they work. By providing a centralised system for storing and managing files, contacts, and calendars, a case management system can help lawyers save time and be more productive.
If you're looking for a case management software for your law firm, then look no further! Lawsyst is one of the best case management software in Australia. With our case management software AU, you can keep track of every single case and client, so you never have to worry about misplacing a file again. There are a number of features to look for in a Lawsyst case management software AU, such as document management, email integration, task management, and a mobile app. It also offer features like time tracking, billing, and client portals.
Lawsyst is one of the best case management software in Australia. With our case management software AU, you can keep track of every single case and client, so you never have to worry about misplacing a file again. It will allow you to track all of your files and documents, as well as keep confidential information safe. Our case management software is trusted by more than 100,000 lawyers. It helps you manage and run your law firm in a productive and profitable way. Lawsyst is easy to use and can be customised to your specific needs. With a wide range of features, it covers everything from client contact and case tracking to billing and accounting. It also integrates with other key software such as Microsoft Outlook, Word, and Excel.
Law Firm Management Software
If you manage a law firm, you understand how critical it is to have software that allows you to make sound tactical and strategic decisions. After all, your firm's reputation is on the line every time you accept a case. There are a lot of different law firm management software programs on the market, but not all of them are created equal. Some systems are better at handling case management, while others excel at billing and accounting.
However, Lawsyst Law Firm Management Software manages documents, calendaring and scheduling, time tracking, online billing and invoicing and maximise operational performance at work. Our law firm management software that helps you generate various KPI reports with a click. With our software, you can easily keep track of your firm's progress and performance. We make it easy for you to monitor your caseload, revenue, and other key metrics.
Lawsyst helps law firms manage their cases, clients, documents, and billing. It offers a simple, easy-to-use interface that allows lawyers to spend more time practicing law and less time managing their practice. It helps lawyers to stay reminded and manage their appointments, deadlines, and to-dos. It integrates with your email, calendar, and to-do list so you can easily track what needs to get done.
Lawsyst provides law firms with a simple and intuitive way to track their tasks. Our software allows law firms to manage their cases and tasks in one place, making it easier for them to stay organised and keep track of their progress. Lawsyst is the perfect solution for law firms of all sizes, and our easy-to-use interface makes it easy for anyone to get started. Contact us today to learn more about our law firm management software.
Law Practice Management Software
As a law firm, you need to be on the cutting edge of technology in order to provide the best possible service to your clients. This means having the best tools and software to help you manage your practice. There are many different types of law practice management software available on the market, so it's important to choose the one that's right for your firm. With the right software in place, you can take your law firm to the next level.
Lawsyst Law Practice Management software typically includes features such as case and client management, document management, time and billing, and financial reporting. Our law practice management software can be a valuable tool for law firms of all sizes. It can help smaller firms operate more efficiently and effectively, and it can give larger firms the ability to better manage their complex operations. In addition, Lawsyst Law Practice Management software can help firms improve their client communication and satisfaction.
With the help of our law practice management software, firms can handle an increasing number of cases and clients while still providing quality service. Lawsyst Law Practice Management software has the ability to streamline your workflow, increase productivity and provide better service to your clients.
Moreover, Lawsyst Law Practice Management software can help to minimise human error by automating tasks, reminding you of deadlines, and providing a central repository for all your important documents. This can help to make your law practice run more smoothly and efficiently, and it can help to prevent costly mistakes.
So what are you waiting for? Book a demo for Lawsyst Law Practice Management software for your firm today.
Legal Case Management System
When it comes to the legal field, it's important to have a case management system that is secure and paperless. With so much sensitive information being exchanged, it's crucial to have a system in place that will keep all of your data safe and organised. That's where Lawsyst Legal Case Management System comes in.
Lawsyst Legal Case Management System is a fully hosted and backed-up software solution that offers users a secure, centralised platform to manage their cases. The system includes a range of features that streamline case management, from initial client intakes to final billing. In addition, Lawsyst Legal Case Management System offers users the ability to access a variety of legal resources, including a library of forms and templates, online research tools, and a calendar of events.
Lawsyst is a legal case management system that helps you keep track of your cases and clients. It saves you time on manual data entry by automatically creating case files and contact lists. It also gives you access to a library of legal forms and documents. The legal case management system is hosted on a central server, which offers a higher degree of security and eliminates the need for users to install any software on their own computers. The web-based interface also allows users to access the system from anywhere in the world, which is ideal for lawyers who need to be able to work on cases from different locations. Our system is designed with enhanced security features to keep your data safe and secure.
And because it's paperless, you'll never have to worry about losing important documents or information. With our system, you can rest assured knowing that your data is safe and sound.
Case Management System for Lawyers
As the world of business becomes increasingly complex, the need for efficient and streamlined legal processes grows. Clients are looking for law firms that can provide them with the best possible service in the shortest amount of time. When your legal process is quick and efficient, you will set yourself apart from the competition. By investing in the right technology and systems, you can make your legal process more efficient and give your clients the best possible experience.
Lawsyst is a cloud-based case management system for lawyers that helps you track your cases, deadlines, and billable hours. It also provides tools for online collaboration with other lawyers, paralegals, and staff. Lawsyst is designed to help small law firms manage their cases more efficiently and effectively. It offers a wide range of features that make it easy to keep track of all the important details of your cases, from initial client contact through to final case details. Lawsyst is also fully integrated with a wide range of legal databases, making it easy to quickly find the information you need when preparing for court.
Our software is designed to make it easier for lawyers to access information and to collaborate with their colleagues. Case management system is essential for any law firm and Lawsyst is the leading provider of Case management system for lawyers. We have developed a reputation for providing quality services that meets the needs of law firms. It helps to manage and organise cases, track milestones, deadlines, and appointments, share documents and files between team members, and more. We are dedicated to helping law firms become more efficient and productive, and our case management system for lawyers is a key part of achieving this goal.
Lawsyst – Legal Practice Management Platform
your partner-in-law
lawsyst in a nutshell
Contact Management
Global contact directory
View communication history by matter
Workflow
Apply pre-made workflows or create your own
Track case statuses
Track Employee productivity
Integrated Phone System
Receive and make calls with a click of button
Never miss a missed call™
Listen to call recordings
Attach voice memos with the matters
Case Management
Create, view and manage matters
Create correspondence
Control access
Billing & Invoicing
Time entries from phone calls or manually entered
Create bills, invoices and send via email or post
Post payments and create statements
Integrated Storage
Cloud or local storage
Controlled access from anywhere
Document management and archiving system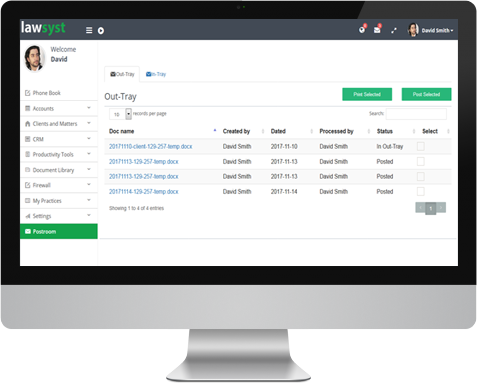 The Jewel In The Crown
Lawsyst is not an ordinary legal case management software , it is a platform that offers a truly integrated Unified Communication experience with real-time data from the telephony infrastructure.
Address Book
Maintain easy companywide address book
Add new callers to the address book
Synchronise address book with mobile devices
Presence
See who is logged in and who is away
See user location
Can be used for HR purposes to establish attendance
Realtime Call Control
See real-time call progress
See if a user is on a call and if the call is internal or external
Click to call from any page
Transfer a call via click of a mouse
Realtime Chat
Communicate with co-workers via instant chat
Broadcast a message
See online or offline status
Realtime Recordings
Record external calls
Listen to external or internal calls
Recordings are attached with the case file automatically
Voicemail to Email
Get voicemail notifications on the screen
Send voicemails to email
Listen to voicemail on mobile devices on the go
CRM & Lead Management
Lawsyst has a built-in CRM and leads management system with useful features rather than gimmicks that most users get confused with. Simplicity with power is the essence of lawsyst.
CRM
Client relationship management
All communication at one place
Global contact list & more…
Leads
All leads in once place. See who is logged in and who is away
Manage leads funnel
Allocate leads and stay on top
Tasks
Manage user tasks
Never miss a task
Achieve KPIs in time
Reports
Leads conversion
Campaign conversion
User productivity & more…
Leads from Missed Calls
Never miss a missed call™
Single click lead creation from a call or a missed call
Call back the lead with a single click
Website & Social Media Leads
Bring website leads into the system
Integrate Social Media directly into lead management system
Facebook integration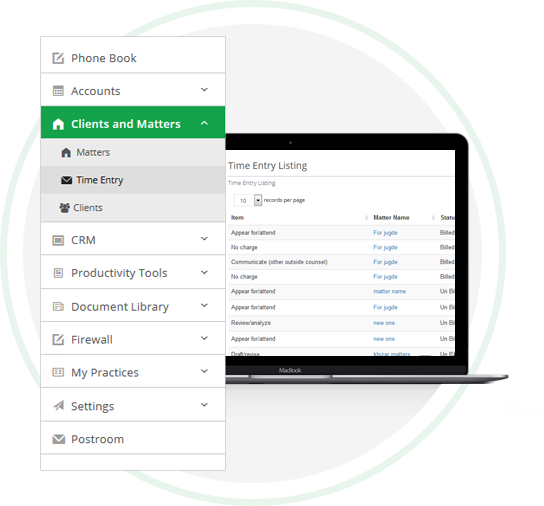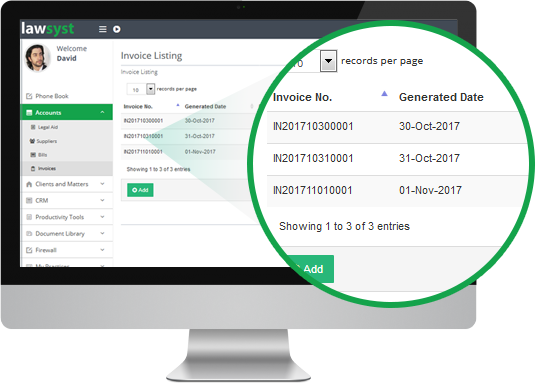 Billing & Accounts
With built-in legal billing software and accounts module that is tightly integrated with clients, suppliers, bank accounts and local authority databases; you will save time by streamlining your bookkeeping process.
Inwards Bills
Record inward bills from suppliers
Pay bill on time and avoid fines
Reconcile with payment methods
Outward Bills
Create bills for clients
Automatic bills from time entries
Automatic bills from phone calls
Reimbursements
Record reimbursements
Approve for payments
Reconcile with bank accounts
Invoice
Create invoices from Bills
Send Invoices via email / post
Send reminders
Payments
Post invoice payments
Legal Aid Entries
Received online payments
Account Statements
Generate account statements for clients, suppliers and resources
Send via email or create PDF
Marketing & Website Integration
Lead wastage is a problem that many firms face. With lawsyst, you can manage leads and improve your conversion rate. You can also measure sale team performance in real-time.
Newsletter
Collect emails addresses and send regular newsletters to subscribers
Email Marketing
Create lists for opt-in subscribers
Send marketing emails and generate more leads
Webforms
Integrate website forms directly into the system
Remove duplication of data and tasks
Client Area
Offer client portal to see matter status, pay invoices and upload / download documents.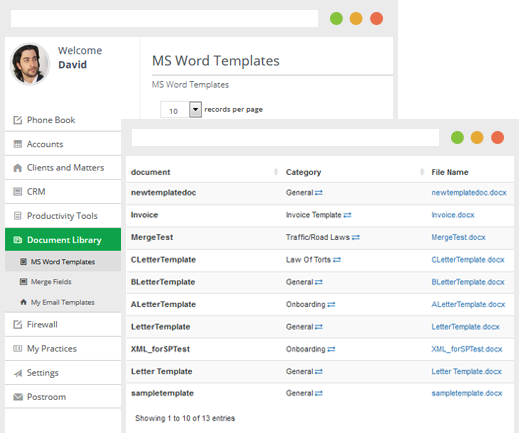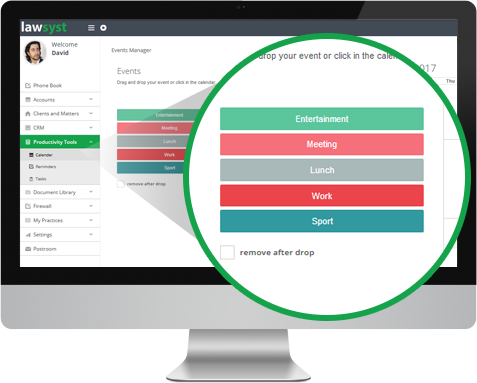 Employee Productivity
Lawsyst offers various productivity tools that are integrated with clients and cases. As a law firm, you do not need to invest in additional tools apart from standard word processing and email clients.
Calendar
Built-in calendar that is shareable with colleagues and assistants.
Tasks & Reminders
Create tasks for self or others
Get work completed by the due date
Email Integration
Outlook email is integrated. Emails sent to clients are linked with client communication history.
Timesheet
Synchronize timesheets with user time entries on tasks.
Integrate with attendance system.
Collaboration
Work and collaborate on cases. Add notes that are available in real-time to others working on the same matter.
Flexibility
Work from home, office or abroad. Use laptop or mobile devices to access data.
Distributed Architecture
Lawsyst is built on a distributed architecture which can be scaled to whatever extent that a business may demand. It can be deployed onsite or in the cloud and offers flexibility to co-exist. Lawsyst exceeds performance and user friendliness benchmarks by leaps and bounds from its competitors. Therefore you can tick it as a preferred case management system for your legal practice.
Scalable
Scalable from a single user to hundreds. Start with a single server and build server farms
System grows as your business grows
On premise or in the cloud, public or private cloud
Secure
Each practice has its own dedicated secure hosting environment
Built-in firewall along with user level access control
Best Performance
Same technology as Facebook and Google use! Best for performance and scalability
No Licensing Fee
No expensive operating system or database licensing
An appropriate subscription with us includes everything you may need
Location Independent
• You are not bound to a location. Need to move offices or need additional space? Just rent some desks; the rest is already there in the cloud.
Platform Independent
Lawsyst is a browser based system that runs on platforms with a browser. These include Windows, Mac, Linux, and Android etc.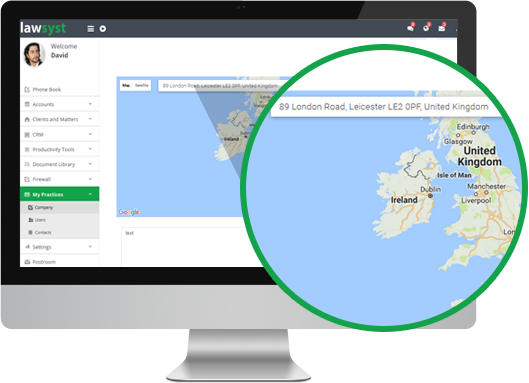 Best Fit For Your Practice Area
Lawsyst includes features that are specifically designed to meet your practice needs Below are the practice areas that Lawsyst is best fit for